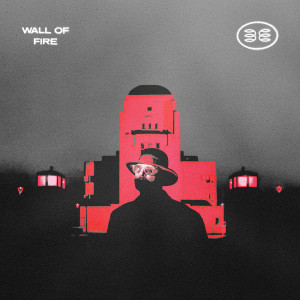 "Wall Of Fire (Mark Reeder's Fired Up Edit)" is the debut single from Birmingham Electric. The single is the first to be taken from Communication, the debut album from the Netherlands-based artist and the product of almost 40 years immersed in electronic music.
Mark Reeder, one of the genre's true pioneers, co-produced Communication in his Berlin studio along with his regular writer and production partner Micha Adams, with additional co-production from Mal Holmes, the original drummer with OMD.
uring the 1980s, electronic wunderkind, multi-instrumentalist and university music major Andrew Evans built his own synthesizers before recording a series of 4-track cassette demos with a view to setting the music world alight. Andy had already set up the Fairlight CMI synth at the University of Maryland before joining the brand-new Audio Technology degree programme at American University and his musical future looked bright.
Thirty years later, after life had gotten in the way, Andy had an epiphany: he'd just gone to see Orchestral Manoeuvres in the Dark in Utrecht, having long settled in The Netherlands and raised a family there. Andy was always a massive fan of their ground-breaking Architecture and Morality and Dazzle Ships albums, but, as an ex- drummer himself, he'd forgotten how percussion-driven the ground-breaking duo had been.
https://www.youtube.com/watch?v=xE-R9wDhmA8&t=1s
That night, Andy reconnected with OMD's Paul Humphreys "for a techno chat backstage", then "on a whim", contacted original OMD drummer Mal Holmes and everything fell into place: together with Mal, Andy would seek to recreate and reimagine the whirlwind of creativity that had informed his formative years and spawned those 4-track cassettes. And he'd even buy a new cassette deck to see what all the fuss was about. Well, that fuss has turned out to be Communication, the remarkable debut album by Birmingham Electric.
Lead single "Wall Of Fire" dates back to those 1980s demo tapes, "at least as a rough concept," says Andy. "Parts of the lyrics date back too but have been reworked a lot in the past year to finalize the track. It's turned into a piece about escaping from conflict zones, a story that happens all too often. I specifically had pre-fall Berlin wall in mind when writing this, but it applies equally well anywhere where oppression and/or conflict have uprooted or separated people. There is an Easter Egg hidden in this track - Mark and I wonder who will be the first to find it..."

Producers Reeder and Adams ensure a Moroder-esque bassline appears toward the end of the track and, the siren at the beginning is a Federal Signal Thunderbolt 1000, the model used by the Civil Defense network in the Washington DC area when Andy was growing up there toward the end of the Cold War. "Every school had one of these and it was meant to warn the neighbourhood of impending nuclear attack," remembers Andy. "To me, this siren is the sound of ultimate doom."
The project's name was inspired by a trip to San Francisco Andy took a few years back. "I was sitting in a cafe on Market Street, and one of the vintage streetcars that runs on the Embarcadero line stopped out in front with 'Birmingham Electric' emblazoned on the side," he recalls. "I thought "that's a great band name" and snapped a picture and it stuck with me. It turns out it was a streetcar originally from the defunct Birmingham, Alabama tram system."
Not long before his OMD epiphany, Andy had lost both his parents in quick succession. Settling their affairs, he stumbled across a selection of boxes of notes and background material for the novel his father had always dreamt of writing but never got around to finishing - a fact that had made him quite unhappy in later life.
Andy remembers sitting around an empty house, surrounded by the unfinished projects of his parents' lives with a message to his own kids' forming in his mind: don't wait to pursue what you're really passionate about. Although Andy also takes a pragmatic view of the time it's taken to release his own music. "I've taken a rather weird path through my life, and while it put music on hold for quite a while, I had other adventures along the way that I don't regret at all."
Perhaps those adventures were what was needed all along as Communication turns out to be perfectly timed, with electronic music experiencing a resurgence and hit TV shows like Netflix's Stranger Things featuring classic 80s synth tracks. Communication, though, is no nostalgia trip but a refreshingly up-to-the-minute take on the complexities, contradictions and absurdities of modern life.