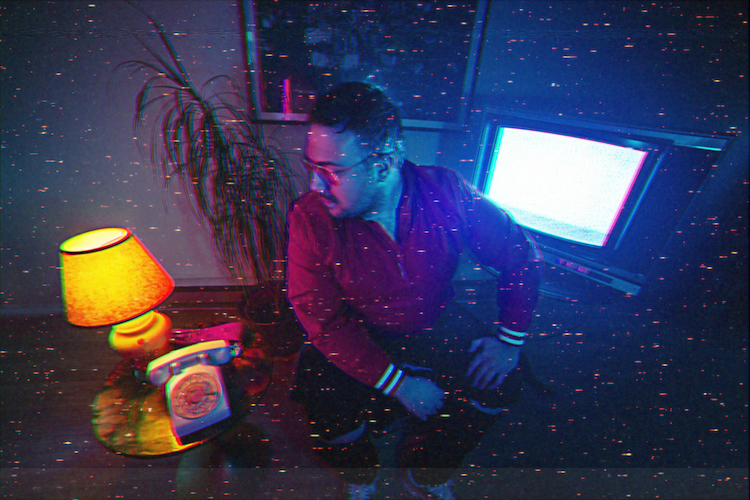 The Motion Epic is a Synth-Pop/Retrowave Project comprised of Singer/Songwriter Pat DiMeo and Producer Andreas Koliakoudakis.
The 1980s were a time of bright colors, high energy, big hair and expansive dreams and ambitions. For those who experienced it first hand, it was the height of pop culture as movies, music, television, fashion and even politics were more upbeat and optimistic. Succeeding generations see it as a fascinating, uncomplicated bygone era with iconic imagery, sounds and styles that continue to influence us to this day. The 1980s were a significant time for so many people, and they continue to inspire and entertain.
Pat DiMeo is an artist who wants to bring that positive tone, enthusiasm and fun back to concert venues and home audio systems through his innovative Retro Pop music and live performance experiences. DiMeo is more than just a musician and songwriter, he is a cultural touchstone, whose very appearance, approach to his original music and showmanship are more than simple adaptations of 1980s couture. This is an all encompassing cultural experience, a modern-day tribute to the songs and artists who revolutionized music, and who were the soundtrack to an entire generation.
"From the time I could walk and talk I was watching movies from the 1980s with my parents and singing along to the hit songs of that era. Thanks to them, I became almost obsessed with all aspects of pop culture from that decade. When I was little, I didn't want to dress up as Spider Man, I wanted to be Marty McFly from Back to the Future," he said.
"I used to drive my parents crazy because all I did was pretend to be Sting and organize 'concerts' in my home living room singing along to my parents' collection of live concerts on VHS. I was just so passionate about it at such a young age. From Huey Lewis' Power of Love to Springsteen's Dancing in the Dark, those songs were like my life-long friends, they've stuck with me to this day."
With a lifelong passion for the songs and artists of this pivotal decade, combined with a prodigious talent as a vocalist, showman and songwriter, he has joined forces with good friend and fellow producer Andreas Koliakoudakis (Dre K) to compose all-original material that feels as if it were torn from the pop charts of 1983, but with DiMeo's one-of-a-kind interpretation.
"My EP entitled "Midnight" is the first of many love letters to the 1980s that captures my childhood love for movies of that era, their soundtracks, synth-pop inspired with a touch of rock and new wave that dominated the charts. I've always felt like I've lived my life to a genuine 1980s soundtrack and that's why I decided to take this path for my solo career.
The music being crafted by DiMeo and Koliakoudakis digs deep into the wellspring of the 1980s pop ethos, focusing on the powerfully melodic, analog synthesizer sound and rhythmic modalities that made the pop music of the 1980s become the legendary force in the culture of the time – a powerful legacy that seems to be coming full circle well into the second decade of the 21s t Century.
"We're definitely going through some 1980s nostalgia craze. Ever since I was a child, I was always a huge advocate of the coming of age story. Who didn't want to be one of "The Goonies?" and now from the major success of Stranger Things on Netflix and it's soundtrack to seeing some of my inspirations such as Springsteen and Simple Minds still touring, still filling arenas, and still making music. These acts from that era of pop music continue to touch people and inspire that it seemed like the ideal time for me to finally unveil this passion project, which I have been working on with Andreas for more than seven years," said DiMeo, a lifelong resident of Montreal.
"We worked very hard to achieve authentic sounds, and it wasn't easy. I personally believed the music of that era wasn't entirely discovered. When the 90s came along, music style and technology evolved so quickly that we sort of missed out on the peak. The Motion Epic is looking to pay homage to the 1980s era of wonderful, fun, positive music by creating our own original songs that feature all the elements that made people love that style of music in the first place. When I listen to the music of the 1980s, even though I grew up in the 1990s, it just gives me a sense of happiness and joy, and now I am living those feelings through my music. It's pretty cool."
Although still in his 20s, DiMeo is an established touring and recording artist, who has played in a host of bands over the years, composing his own songs from the age of 14. A drummer first, he learned to play guitar as well, and looked to vocalists such as the aforementioned Sting, along with Jim Kerr of Simple Minds, Collins and Gabriel, Springsteen and David Bowie.
Like Sting and Bowie in particular, DiMeo is going to create a full-on, enveloping concert experience, one that will be cinematic in it's scope and full of vibrant color, lights and sound. It will be more than a nostalgic experience, but an exciting and dynamic escape from the online trolls, the negativity in the news and the stresses of everyday life in a globalized, unsteady world.
"When you walk into the venue, I want my audience to feel that they are going to take a trip back in time and revisiting a full on 80s inspired era. This was a time before mobile phones and the internet, when people could dress up in the latest fashions, join their friends at their favorite concert hall and just dance and sing and forget what's going on in the outside world for a couple of hours, I want to bring that feeling back," DiMeo said.
The Motion Epic is a bold and innovative musical adventure, with songs that will become as integral to the listening enjoyment of fans as are the tunes from the 1980s that inspired this ambitious endeavor in the first place. It is an immersive experience that will infuse all the senses with the vitality and spirit of a hopeful time in our culture.
The emphasis on the music and the shows will be unashamed, unwavering joy that will bring together like-minded souls from across cultural and generational divides joined by the common notion that, to paraphrase another legendary 1980s hit song, girls (and well boys too) just wanna have fun!
© Jim Barber